November 1, 2022
Crown launches carbon neutral relocation service
Crown are leading in sustainable workplace change, with a net zero target for Scope 1 and 2 emissions for 2040 which we are proactively working to deliver against as a business priority.  To complement this progressive agenda and further support our clients in minimising the environmental impacts of their moves and changes, we are pleased to launch our new carbon neutral relocation service. 
We are continually reducing our carbon footprint and working towards our net zero target, and have already made substantial progress in this area.  Our operational facilities are all running on high quality renewable energy tariffs, meaning these Scope 2 emissions are zero.  We have a clear fleet emissions reduction strategy and have started to introduce smaller electric vehicles as part of this.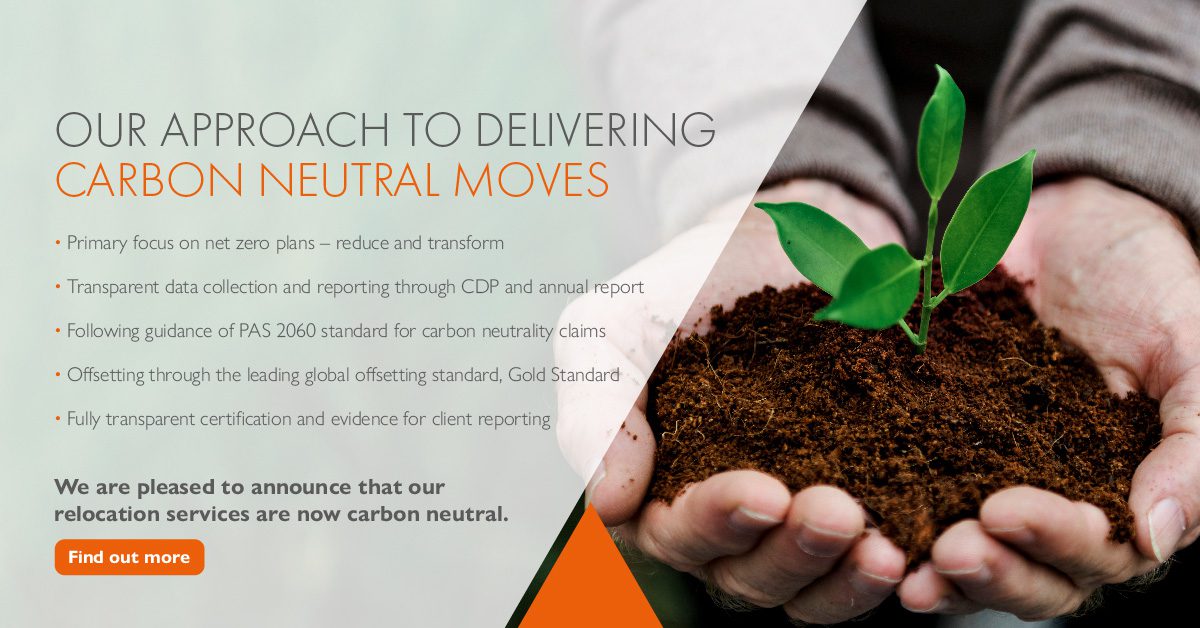 Alongside our carbon strategy, we are offsetting all carbon emissions from direct and partner vehicle movements and packaging used during all our client moves, with a 5% contingency for unknown emissions.  Whilst these moves are offset in advance, any gap between estimated and actual emissions will be offset at the end of the 12-month period.  We will also offset emissions from staff commuting and travel arrangements, initially retrospectively as they are currently being evaluated as part of our Scope 3 emissions.  Our carbon neutral claims are in line with the principles of internationally recognised specification for the demonstration of carbon neutrality PAS 2060.
We are offsetting through Gold Standard, the leading global offsetting standard that was set up by WWF and other international NGOs in 2003 to ensure best practice.  The Gold Standard Foundation certifies projects that are run by NGOs across the world, to robust standards and with verified impacts on both carbon and sustainable development.
Phil Oram, Regional Director, Crown Workspace UK & Ireland says: "At this time, we are doing as much as we can to reduce our Scope 1 and 2 emissions in line with our net zero target.  Recognising that offsetting carbon is not the panacea, we believe that providing these operationally carbon neutral moves supports clients in reducing their environmental impacts and particularly Scope 3 emissions in the short term.  We are delighted to take this leading step against the backdrop of a credible long-term carbon reduction strategy."
We continue to invest in our net zero strategy, fleet electrification and service innovation with a view to reducing the emissions we need to offset over time.  This announcement is part of our commitment to a progressive responsible business strategy including an ambitious net-zero target for Scope 1 and 2 emissions by 2040.
For more information on how Crown are developing our sustainability agenda, click here, or to find out more about our recent sustainability rating from EcoVadis, click here. 
Related stories
Crown Workspace has made huge progress against our sustainability strategy in 2022 and will have much more to update you on in the coming year.  In the meantime, we wanted to share just some of our highlights from 2022:
Crown UK&I are delighted to have been awarded a B score in the 'Management' band with CDP for the first time, which takes us a band above our C score as 'Awareness' for 2020.
Crown Worldwide Group in the UK and Ireland is proud to have been awarded Investors in People's We invest in people, silver accreditation. Find out more now!